Your home is a reflection of you. Do your walls show your personality? With these fun decorative paint ideas, you can give your rooms a facelift — and add your own personal style throughout your home — without breaking the bank.
Stenciling
Using a repeated pattern can create a stylish focal point in a room. With endless designs to choose from, you're sure to find the perfect pattern for whichever room you want to jazz up with stencils.
Wall Graphics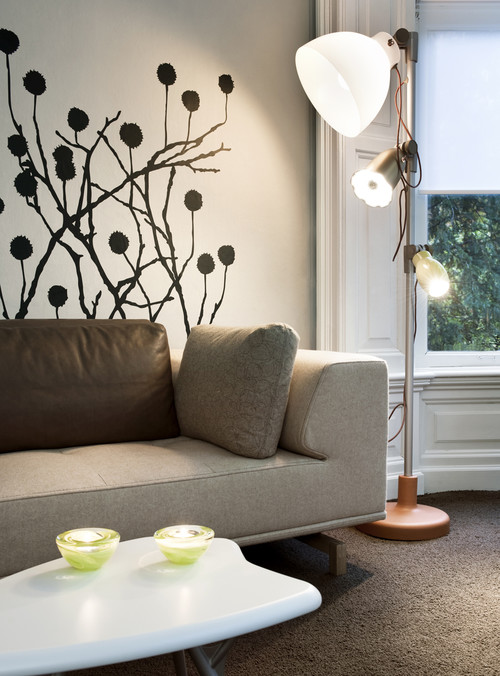 It's large-scale wall art. Wall graphics are a fun alternative to framed art or wallpaper. You can use a decal to create a fun image on your wall. But you can also create a truly one-of-a-kind wall graphic by using a projector to display an original image onto your wall. Simply paint where you see the design, and then sit back and enjoy your unique wall.
Metallic Paint
Bring on the drama! Metallic paint is a great way to add oomph to a small room like a powder room. Or highlight an architectural detail in a larger room by painting it with metallic paint.
Stripes
Stripes are one of those versatile designs that can do just about anything to any room. Use them on one wall in a subtle way, as shown in the picture, to add some visual interest to a nursery. Or bring them all the way around the room for some bold drama. Add just one stripe around the perimeter of the room, or go vertical.
Polka Dots
What's more fun than polka dots? Add a burst of whimsy to a room with polka dots. You can cluster them or spread them out; use all one color or several coordinating colors. Put them around the room, on just one wall, or on just one portion of a wall to highlight one area of a room. These work especially well in children's rooms.
Strié Technique
For some serious sophistication, try this strié, or dragging, method. It adds a beautiful, but understated, texture. To get the look: Mix a satin base coat color and glaze, and then paint it on your wall in sections. Drag your wallpaper brush over the wet glaze both vertically and horizontally.
Chalkboard Paint
If you get easily bored, chalkboard paint is a great way to keep things fresh. Paint an entire room, or just a section of a wall, with chalkboard paint (a paint store can lighten the paint if you don't love how dark it is). Then, add and erase designs as the urge strikes. You'll never get bored again.
Stamps
Stamps aren't just for paper. You can use them on your wall as well. To make your own, draw a pattern on paper and then transfer it to craft foam. Glue the foam onto wood blocks, and voila! You've got yourself a wall stamp. For more detailed instructions, check out How to Add a Lively Wall Pattern with Stamps.
When you want to paint the interior or exterior of your home, trust the leading Central Coast painting contractor, New Life Painting. We'll work with you to create the room of your dreams. Give us a call at (805) 937-9836, or request a free estimate online.